Most people prefer to buy gifts in stores: it is both faster and easier than looking for something original. But a gift can be made with your own hands: a man-made present is perfect for both an adult and a child.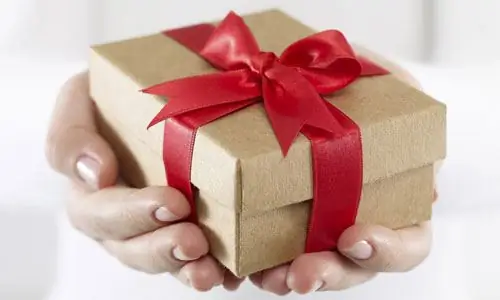 These instructions are quite simple, and even a novice master can cope with them: learn how to prepare a gift for an adult or child.
For an adult
A homemade gift for an adult practically does not limit your imagination in any way: you can use any forms and materials without fear that the birthday person will hurt himself on a sharp edge or break something, as is typical for children. Focus on the interests, tastes and preferences of your birthday person: if, for example, he loves jewelry, it will probably not be difficult for you to assemble simple beads or bracelets by design (however, this will depend only on your skills and abilities), but for a book lover a large set of homemade covers of all possible shapes and sizes is perfect. If your friend is a sweet tooth, we suggest making such a funny present with wishes: the birthday boy will definitely not remain indifferent.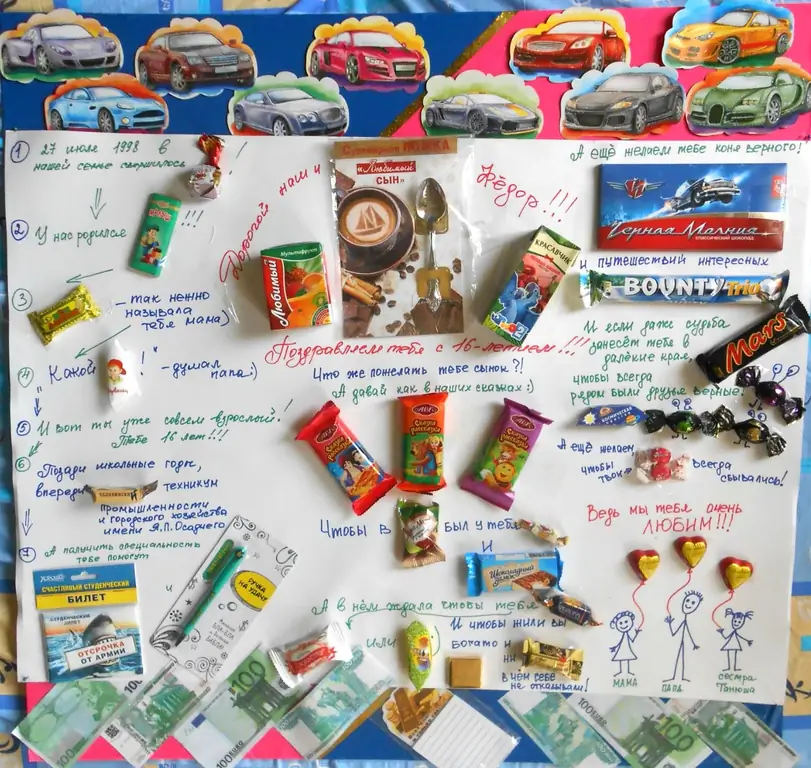 For a child
Despite the fact that most children simply adore all kinds of toys (alas, the "adoration" of a beloved child often grows along with the price of a trinket), a gift made with their own hands may not be worse than a store one. As a rule, almost every child has a favorite character from a cartoon, book or game: his image will be useful to you.
Many people think that things depicting popular characters from cartoons and films are unreasonably expensive, and, perhaps, this is true: most often the price is really overpriced several times. We assure you: with due diligence, your gift will turn out to be no worse than a branded souvenir. You can transfer the image of your child's favorite hero to whatever your heart desires: make a patchwork bedspread with the heroes of your favorite cartoon (images can be done using appliqués), bake an original cake depicting someone your baby is not indifferent to. If your child loves to study, you can present him with a large supply of original stationery: non-standard notebooks, diary covers. An easy way to decorate your kid's school supplies is shown in the photo: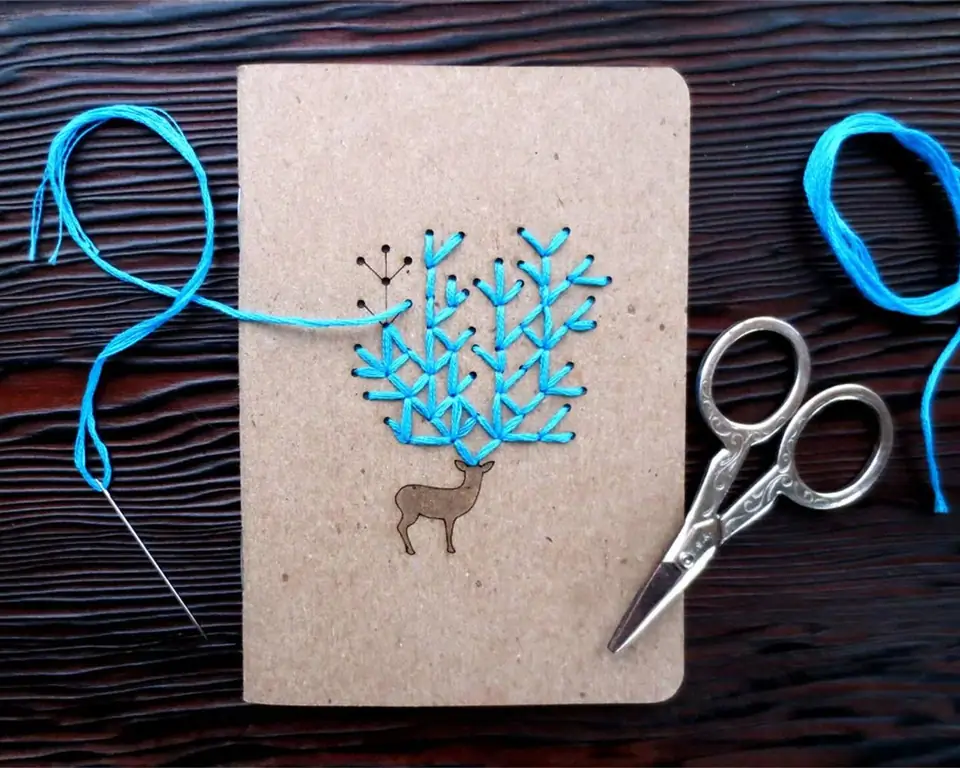 Mom
A great gift for mom will be a collage made from family photos. Before starting work, you need to make sure that you have selected copies of photos already in the album and that the images do not contain important and necessary signatures on the back. You can make a collage or decorate any other objects with photos: you can use decorative plates as a base (wooden plates are best because they hold the photos better and are easier to glue).
If the surface on which you want to fix the photos is not too flat or even bumpy, it makes sense to soften the photos a little: this will make them more flexible. But make sure that the images do not sit in the water for too long: it is better not to soak photographs printed on thin paper. Well, if you don't have a lot of photos in your family archive, don't be discouraged: instead of a collage, you can make such a funny frame (if you don't have mini clothespins, you can use paper clips or regular office clips).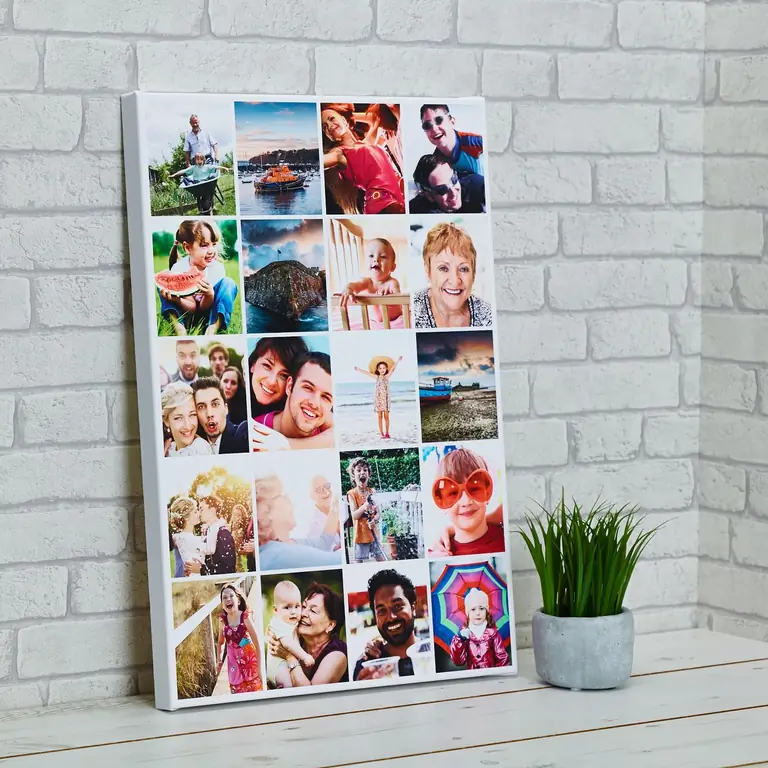 To the Pope
Preparing a gift for dad is also not difficult. In order for the birthday boy to definitely like the gift, it is worth remembering what he is fond of. For example, if your dad loves fishing, you can make a wonderful decorative painting from cereals, cardboard and colored paper, decorating it with fish of all types, shapes and sizes.
To create a picture, you will need a dense base of the right size (if the colored cardboard is too thin, you can take a corrugated one, painting it in the desired color), a simple marking pencil, glue and cereals: it is better to use several types. For your work, you can choose absolutely any motives and patterns: it is not necessary to stop at fish or animals. Here is such an original picture decorating a room, you can get it: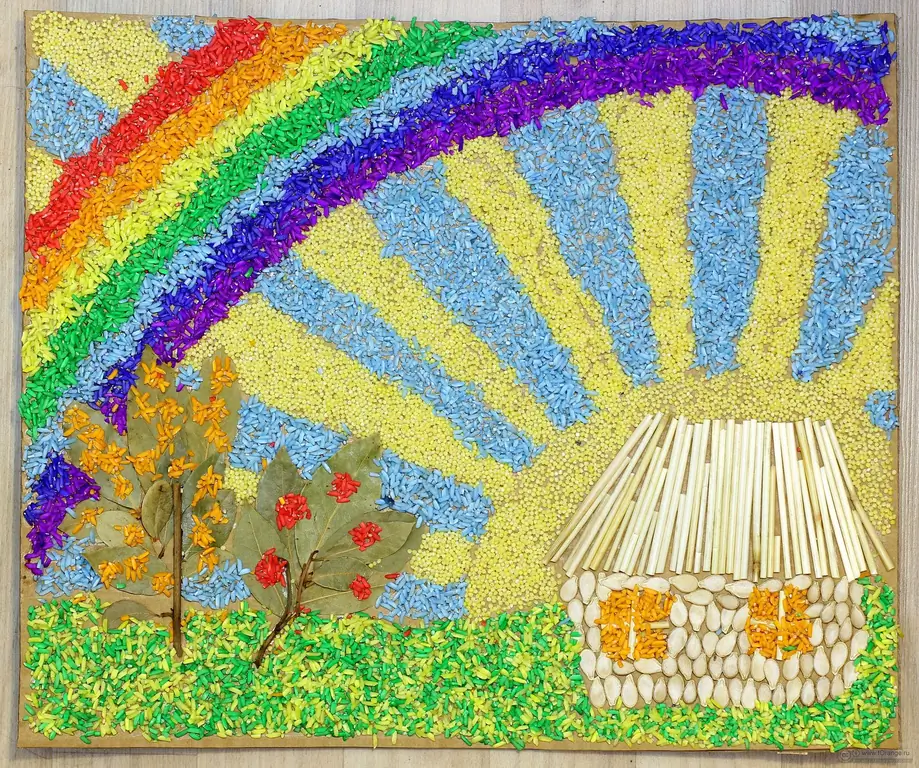 Making a gift with your own hands is not as difficult as it might seem at first glance, and the result will surely please the birthday person no less than a factory item bought in a store. Many parents proudly keep and show their friends and acquaintances what their children have given them, and this is another proof that it is always worthwhile to "have a hand" in creating a gift.