The American National SMS Speed Dialing Contest was held for the tenth time this year. The participants used push-button telephones - LG, the sponsor of the event, for some reason does not want to keep up with the times and move on to competitions on the touch screen. Perhaps it is for this reason that last year's champion became the winner of the competition this year.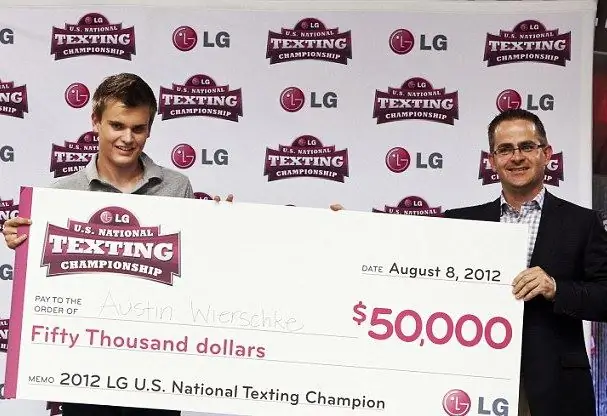 The competition attracted the attention of 11,000 applicants, and one of the best from every thousand applicants was selected for the final round. The final stage took place in the famous New York Times Square on August 8 and consisted of four rounds. The most trivial exercise was simply typing the given text as fast as possible. In another competition, participants were asked to decipher various kinds of text abbreviations that are used in the exchange of "sms". Then the participants typed texts while blindfolded, and in the final round they were forced to hold their hands with the phone behind their backs when typing. All applicants used the same LG Optimus Zip mobile phones with a QWERTY keyboard.
The judges assessed the speed and accuracy of the test tasks, as well as the sleight of hand shown by the applicants. As a result, they recognized Austin Wierschke, a 17-year-old student from Rhinelander, Wisconsin, as the owner of America's fastest fingers. He was able to type a text message of 139 characters with the inclusion of several special characters, observance of punctuation and the rules for capitalizing letters in 39 seconds.
According to Austin, he trained hard, reaching out to everyone he knew with his text messages, sometimes sending 500 messages a day. Probably, now he will have to give part of the prize $ 50,000 to his provider, and the remaining student plans to spend on tuition fees. Austin was the winner of the previous such competition. The young American expects to replenish his educational budget with the help of this competition next year.
The second prize-winner of the competition - 16-year-old black Kent Augustine from New York's Queens - was not far behind the winner and was encouraged by a check for $ 10,000.