At the end of summer 2012, tourists who came to the capital of Great Britain were able to visit a unique attraction - the Book Maze. The creators of this large-scale art object demonstrated a creative approach to the use of recycled environmentally friendly material. The goal of the project is to draw attention to books and reading as many people as possible.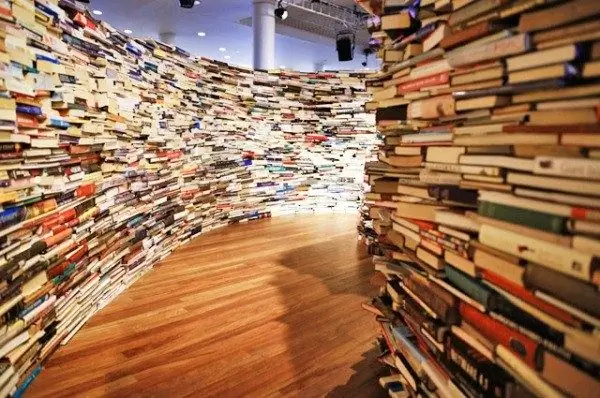 In August 2012, a unique art object - the Book Labyrinth - was erected at the Southbank exhibition center in London. It appeared thanks to the great Argentine writer Jorge Luis Borges and his great love for books and labyrinths.
The creators of this large-scale art project, Brazilian artists - Marcus Saboya and Galter Poupo - called their labyrinth exhibition aMAZEme. The name is a play on words: amaze me ("amaze me") and confuse me ("maze me") at the same time. Moreover, the word "maze" is translated as a labyrinth.
London's aMAZEme is a scaled-down version of the book maze in Rio de Janeiro. And supposedly the shape of the labyrinth repeats a fragment of Jorge Luis Borges's fingerprint. Although, most likely, this is just a beautiful legend.
The London Labyrinth at the Royal Festival Hall was built from 250,000 books on an area of 500 square meters. The height of the walls reaches 2.5 meters. The labyrinth was erected in 4 days, 50 volunteers took part in the construction.
The art project of Saboya and Poupo is considered an environmentally friendly work. The material for it was books, many of which were sent for recycling.
All visitors to the labyrinth could take a book off the wall, flip through it and read it right there. On the walls, one could see a variety of quotes about writers and artists. In addition, visitors had the opportunity to watch daily performances. Also, everyone was offered audio tours, during which they talked about the most interesting books used in the construction of the art object.
London's Southbank Exhibition Center is located on Belvedere Road. The Maze Book Exhibition was held at the Royal Festival Hall from 5 to 26 August 2012. Anyone could visit it absolutely free of charge.