New Year 2018 is approaching. If anyone does not know yet, the year of the Earth Dog is approaching. And many housewives have already had a question - what to serve on the table on this bright holiday? It should be noted right away that the symbol of the year 2018 is unpretentious in food. Therefore, the table should not be overloaded with various expensive delicacies. Although, of course, several culinary delights are allowed on the table. But meat dishes on the table should be present, few dogs will refuse a piece of juicy meat.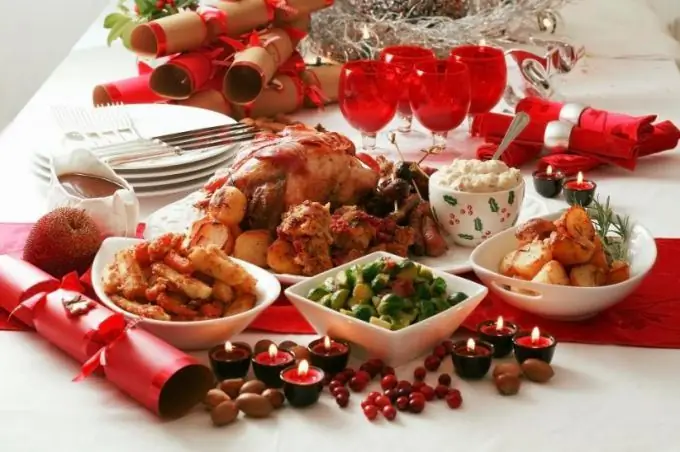 So, if you are used to serving the first dish on the New Year's table, then it can be soup with chicken hearts or meatballs. Pork pickle is also suitable. You can prepare a prefabricated hodgepodge by adding different sausages and meat to it. Or you can resort to the classics - hearty borscht with veal. Do not forget to decorate the cooked soup with chopped fragrant herbs.
Well, how can you do without a second course? It should also be cooked from meat. For example, you can make meatballs, beef liver, chops, cutlets, goulash. Boil loose rice as a side dish (choose long grain varieties). Boiled potatoes with onions are also perfect, you can make mashed potatoes from them. Here, each hostess is more focused on her own taste.
The New Year's table is not complete without cold snacks. The symbol of the coming year will appreciate the sausage and meat cuts. You can cook beef heart and tongue, lard with layers. Salads can be unpretentious - classic Olivier, Mimosa, Herring under a fur coat. One of the salads can be safely decorated in the form of a dog. You can make fish rolls, canapes with meat, jellied meat - fantasize! After all, the kitchen is exactly the place where you should let your imagination fly in order to please your loved ones with original dishes!
Not everyone includes desserts in the New Year's menu, but if you can't see the upcoming holiday without them, then resort to traditional desserts. It can be a self-made cake, pastries. Place the candy and cookies in the bowls. In addition to vegetable salad, you can prepare a delicious and healthy fruit salad with cream. And to establish contact with the symbol of 2018, you can buy sweets in the form of dog figurines. Closer to the New Year, there will be a lot of these on sale! Do not forget about tangerines - allocate a separate vase for them, how would it be in New Year 2018 without the scent of this fruit?
There are no restrictions on the choice of alcoholic beverages. Of course, remember to measure! The patroness of the year will not appreciate excessive alcohol consumption, but you do not want it to deprive you of health, stable income and good family relations for the whole year? Do not forget about sweet drinks - put fresh juice, jelly, fruit drink or compote on the table. It is better to prepare drinks yourself, it will not be superfluous to decorate them with cinnamon for aroma, sprinkle with powdered sugar.
As you can see, when preparing the table for the upcoming New Year 2018, you can rely a lot on your taste and imagination! Treat yourself and your loved ones, make this New Year's Eve unforgettable!