Trying to make their weddings unique, modern brides are increasingly abandoning traditional dresses with marshmallow-like hemlines and preferring short wedding dresses. What is the reason for the popularity of this wedding trend - in the desire to express your own individuality, or is it just a tribute to fashion?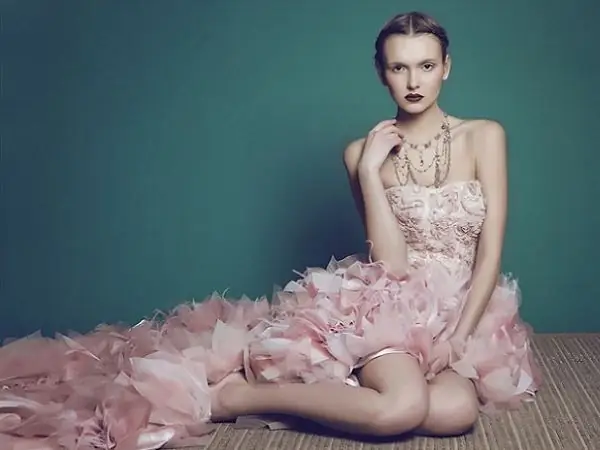 Wedding dresses with a train from different eras
The invention of dresses with a train is credited to the favorite of the French king Charles VII Agnes Sorel. The role of this woman in history is ambiguous. The clergy condemned the king's relationship with her, so dresses with a train, which became quite popular among court ladies, were forbidden to be worn at church ceremonies, primarily at weddings.
In the Age of Enlightenment, plumes became popular again, but now they represented a protest against prejudice and medieval delusion. It was then that the long (often many meters) train of the wedding dress began to symbolize a long and smooth family life.
Nowadays, dresses with a train are not a form of protest, but modern wedding fashion dictates its own rules, and along with elegant long dresses with an elongated hem, short models with an asymmetric skirt are very popular. This style is called high-low.
Short wedding dress with a train: who does it suit?
Of course, a short wedding dress with a long train is not suitable for every bride. In order for it to look really beautiful on the newlywed, it is important that her legs are straight and slender. The asymmetrical hem will draw attention to the lower part of the body, leaving the hairstyle and ring in the background. Therefore, the proportions of the body also play an important role: long-legged girls in such a dress will look more advantageous.
In addition to physical data, the bride's gait is important. Open legs will be visible to others, captured on video. Therefore, even after 6 hours of travel to all the memorable places of the city and a certain amount of champagne drunk, the bride should walk confidently, but at the same time gracefully.
Finally, there is an age limit. No matter how young and light a woman who marries after 40-50 years old feels, a short wedding dress with a train is still more suitable for young brides.
It's all about the train
There are many models of high-low wedding dresses. The most common style is a sheath or a tight-fitting bustier with an additional skirt in the back. Often this detail is removable, so that after the formal part of the ceremony, the bride can perform an energetic dance without fear of stepping on the long hem.
In some models of dresses, the train is connected to the veil, becomes part of the peplum, forms a complex structure of flounces and ruffles, flowing downward from the belt. There is no limit to the flight of the designers' imagination, they use flying organza, tulle, lace as a material, and often decorate trains with pieces of fabric imitating petals.