In the Kaluga region, on the banks of the Ugra River in the village of Nikola-Lenivets, the International Festival of Landscape Objects "Archstoyanie 2012. Summer" was held. In the period from July 27 to July 29, everyone could appreciate the original ways of developing space, in 2012 the key concept of the festival was "routes and movement".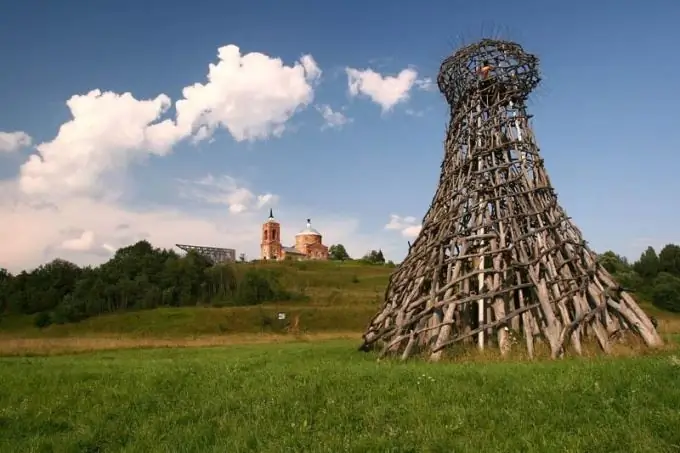 The festival traditionally brought together famous architects and artists from Russia, France, Japan, Estonia and other countries, as well as fans of creative experiments. The bureaus were Salto Architects, Wagon Landscaping, Bernaskon, Manipulazione and others, and a special guest from Japan Junya Ishigami was invited. The event is being held for the 7th time already, this time an important innovation has appeared on it - the author's program of routes. The festival's curator Anton Kochurkin, Nikolai Polissky, as well as French architects from the Wagon Landscaping bureau have developed their own routes, along which visitors could get acquainted with their works.
The space of 120 hectares became a huge creative laboratory for several days. Estonian designers have presented the original Fast Track, which is a huge trampoline on which the slowest step turns into a skipping run. The architects from the Munipulazione Internazionale bureau have built the composition "Storming the Sky", which consists of a huge number of constantly moving stairs. Architect Boris Bernasconi erected a 15-meter arch, which became known as "Bernasconi's pants", climbing upstairs, the viewer can draw water from the well and look into the artist's room.
In addition to art objects, dance and theatrical grounds, a children's labyrinth, in which children could be without parental supervision, appeared at the festival. Music, traditional for Archstoyanie, has become an indispensable companion of all events.
The highlight of the festival was Andrey Bartenev's performance "Air Kiss of a Tree" with the participation of two dozen men and girls in green tight suits with balloons on their backs and trees in their hands. They created an unusual dance, converging and diverging, forming spirals and columns, intricate lines.
Over time, the festival space may well become a multifunctional park, the organization of the holiday becomes more and more comfortable for visitors: good guarded parking, tents, sleeping bags and pillows issued on bail. Viewers can only come to become participants and discoverers of this vast architectural world against the backdrop of a rural landscape.