When a lot of children gather at the holiday, they need to be occupied with something. I bring to your attention several contests that will appeal to children from 3 to 7 years old.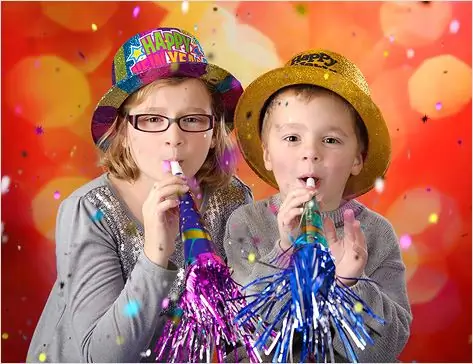 "Guess what is this?"
Put various toys, hard fruits and other small things in the bag: a button, a shell, a flashlight, a watch, etc. All items must be free of sharp edges. Each child takes a toy in his hand and, without taking it out of the bag, tries to guess what kind of object it is. After that, the child takes out the thing, and if he guessed it, he gets a candy. There should be 2-3 times more objects than children.
"Drawing together"
Give each child several markers or pencils of different colors. Attach the drawing paper to the wall so that no one can see it except the drawing one. The child takes turns coming to the Whatman paper and draws one object on the Whatman paper. After a few circles, show the children what the children have drawn together and encourage them.
Shootout Game
Announce a prize - some kind of toy. The most attentive child will receive this prize. Prepare questions to be answered yes or no. Take turns asking the children. Whoever makes a mistake drops out of participation. The questions should be simple, for example: is it colder in winter than in summer? Yes, everyone is resting on Thursday? "No", etc.
"Edible-inedible"
Everyone knows a game that is undeservedly forgotten. The presenter holds the ball and throws it to the children at random, accompanying with a word. If the word means an edible object, then the baby must catch the ball, but if it is inedible, then beat it off with his palms. Choose a ball that is small and slightly deflated so that the children do not get hurt.
"Zoo"
Prepare cards in advance with the names of different animals. The child comes up and takes the card. With gestures, facial expressions and movements, the child must show the animal to the rest of the children. Children are trying to guess. Each participant receives a sweet prize.
"Race"
Prepare a pin line. Each child in turn comes to the track, gets a plate in his hands and tells what kind of car he is. After that, he must carefully, without knocking down the pins, pass the track. The presenter with a stopwatch marks the passing time. The winner receives a souvenir.