Pajama parties, popular in European countries, are gaining momentum among Russian youth. A fun and inexpensive way to spend time attracts with its simplicity and relative originality. A pajama party can be a lot of fun, while organizing it is not difficult at all.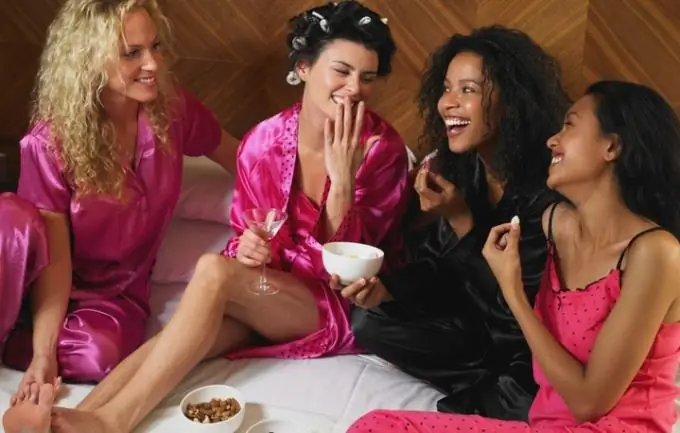 It is necessary
Phone book
Book of recipes
Pajamas
Toothbrushes by number of guests
Slippers by number of guests
Instructions
Step 1
First of all, make a list of the friends you want to see at the party. Call them and invite them over about two weeks in advance. Be sure to warn about the format of the event and the dress code - entry only in pajamas or nightgowns.
Step 2
Of course, you should understand that you are inviting people all night, so the next day should be a day off. Make sure you have enough sleeping space and plenty of spare toothbrushes in advance.
Step 3
The theme of the party can be anything. Cooking (and then eating) pizza, beauty salon, "girls between us", etc. It all depends only on your imagination. Just try not to turn on loud music and not disturb your neighbors, so that the party does not end with a showdown with the police.
Step 4
Prepare buffet snacks in advance. Ingredients can be anything, the more types, the better. The only condition is that the food should be light and as low in calories as possible. Keep in mind that the party is for girls only, and you will most likely have to eat all night long. The choice of drinks depends on your preferences. It can be light dessert wine or fruit cocktails. The main thing is not to have a headache in the morning.
Step 5
As you already understood, boys are not allowed to enter the pajama party. But you can talk about them even until the morning. Tell your boyfriends that you will be spending the night together. Otherwise, you will be constantly distracted by calls and SMS. At the same time, it is not bad if the boys get a little jealous, it will only warm up their love.
Step 6
After the pajama party is over, it's time to sleep. Well, then all together to remove the traces of night gatherings. If you want to get together with your friends on a regular basis, make it a rule to help the hostess clean the house. It will be right every time to change the place of deployment and arrange parties in turn. This way you will preserve friendship, peace in the family and a sense of celebration. After all, visiting is always an event.