The New Year tree is one of the most important attributes of the holiday. It is impossible to imagine a New Year's feast without this forest beauty. Starting from December 28, in almost every window of ten-story high-rise buildings and private houses, one can observe sparkling play of garlands decorating the festive spruce. Many hostesses take decorating a Christmas tree very seriously and prefer to make toys by hand.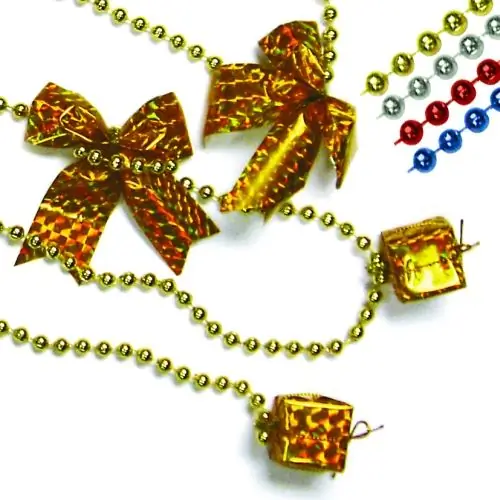 It is necessary
colored paper, glue, foil, fabric, ribbons, threads, beads, sequins, fringes, sequins
Instructions
Step 1
One of the easiest Christmas tree decorations to make is a bow. A similar decoration can be made, for example, from colored paper: choose the paper colors you like the most, cut out rectangles that match the size of the desired bow. It is much easier to use double-sided paper, but if the paper is single-sided, simply glue the two rectangles so that the color is present on both sides. Then fold the blank with an accordion, tie a beautiful ribbon in the middle, so that the ends of the ribbon form a loop. And now, the bow is ready.
Step 2
Foil is also a wonderful material. If you don't find it in your house, then you can even use a chocolate wrapper.
Step 3
Bows made of fabric are also trendy. Take your ribbons, once used for tying braids, and, tying them into a beautiful bow, sew with threads in the area of the knot. This will not untie the bow.
Step 4
Many people prefer to use candy wrappers as material. This option is very successful, since candy wrappers are usually bright and sparkling, which means they are ideal for decorating a Christmas tree. The downside, in this case, is the limited size of the bow.
Step 5
So, there can be a lot of basics for a bow itself. But just a bow made of colored paper or satin fabric is boring. Unless, of course, you are decorating a strict office tree. To give the bows the final gloss, you can use beads, various sequins, fringes, sequins and other similar trifles. All this can be fixed in two ways: with threads or with special decorative glue.