The honeymoon is the time that every new family should have after the wedding. The most important thing in a honeymoon is relationship, love, attention and care for each other. Then the whole family happy life will be honey.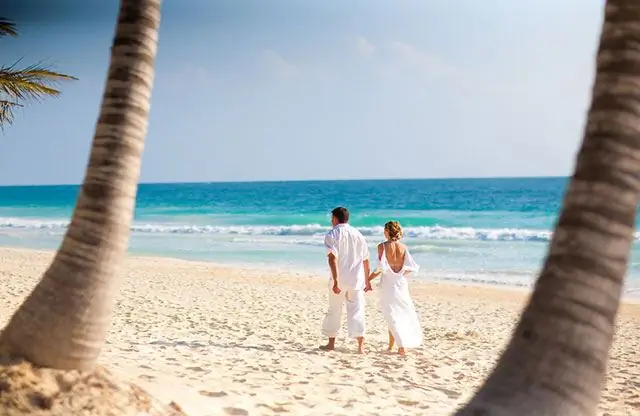 In the first month of love, you don't want to be distracted by household trifles, so many couples go on a trip to enjoy love and relaxation in full. A change of scenery, expansion of the horizons of consciousness, and most importantly - a loved one is nearby. It is not for nothing that so many people choose this particular type of celebration of the creation of a new family. You can go anywhere, taking into account your own preferences and financial situation.
Another option for the solitude of the newlyweds, in which it is not necessary to go to the ends of the world, is a house in a village, an estate in the suburbs, a hut on the seashore, or generally a tent in a secluded and beautiful forest. It is very romantic, you can enjoy the beauty of nature, fresh air. And financially quite acceptable. Household problems will concern the spouses, but, in the end, you need to get used to it and cope with family life.
Extreme couples can have a month of adrenaline and extreme. It will be a kind of survival test. A motor rally across Russia, a hike in the mountains or taiga, a balloon, a parachute jump, the conquest of mountain peaks … You can list for a long time, it is important to listen to your preferences and get ready for an exciting adventure.
For less extreme honeymooners, honeymoons in exotic locations are a great option. For example, in Alaska. Yes, this is not the most romantic place, but if you take a liner, arrange a hike in the mountains, make a dinner overlooking the stunning icebergs, the rest will be amazing. Wildlife, mountains, national parks, there is something to enjoy here. In Iceland, you can find well-known thermal springs, which are very relaxing, as well as an active volcano and incomparable northern lights. In Switzerland, you can enjoy the cleanest lakes, very ancient trees and cozy houses.
Working spouses don't need to get upset. If work can't be interrupted, you can always postpone your honeymoon until vacation, and in the meantime, make every night special. And in a familiar atmosphere, you can have a good time. An ordinary romantic dinner is already capable of making an impression. But there are also restaurants, clubs, cinemas, parks. And nobody cancels beautiful bouquets, gifts, romantic SMS messages, surprises.