A wedding ceremony is one of the brightest events in the life of every person. Like any holiday, it is customary to decorate it with flowers. When choosing a wedding bouquet for a bride, there are several important points to keep in mind.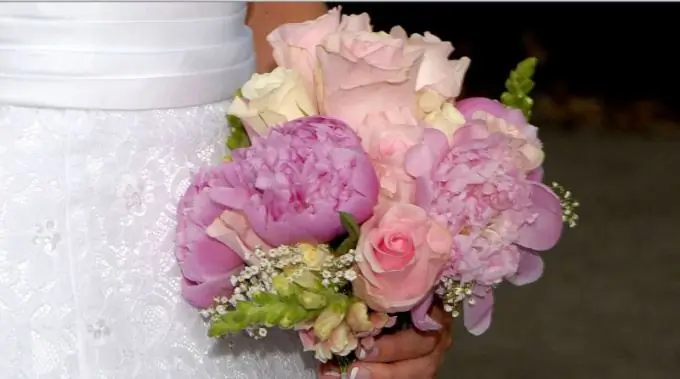 Instructions
Step 1
Choose the shape of the bouquet, taking into account the wishes of the bride. It can be a classic ball, cascade, drop or heart. Discuss the final bouquet weight with the florist. Do not forget that the bride is a fragile creature, hardly capable of dragging heavy, albeit beautiful flowers. A light bouquet will look much more harmonious against the background of the girl, and also will not give her any trouble on a bright day.
Step 2
Rely on the color and style of the dress. If the bride's dress has bright inserts (for example, a ribbon), try to match the bouquet to match. It is not necessary to make a monochromatic bouquet. You can combine different colors, the main thing is to follow the harmony. The usual white flowers are no longer so relevant. Brides try to stand out and follow their preferences. A bouquet of red roses in the shape of a heart is also perfect for a wedding, just like a classic white balloon.
Step 3
Don't choose strong-scented flowers. You may love the smell of lilies, but a whole day in their intoxicating scent will lead to headaches and ill health. Find out if the florist has the same lilies, but decorative - they are grown without such a strong scent. If not, pick up other flowers.
Step 4
Buy flowers for the bride, bridesmaid and boutonnieres in one place. Bouquets for ladies should never repeat each other. They are created in the same style, but should vary in color and size. The groom's boutonniere is created in harmony with the bouquet of the bride, the witness, respectively, with the bouquet of the witness.
Step 5
Purchase flowers to decorate your hairstyle in consultation with your florist. They should not give off a strong aroma, but should be able to maintain their freshness without replenishment all day long. The withered flowers on the bride's head are a sad sight.