Gloves add sophistication and sophistication to the bride's look. Choosing the right gloves is not easy, you need to correctly guess the size, not be mistaken with the color, choose the material to match your dress.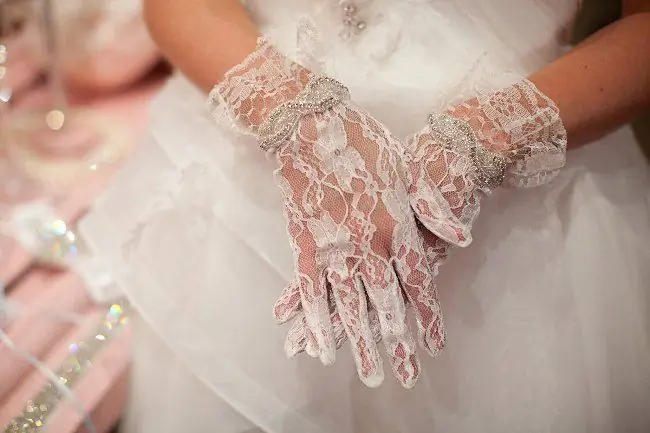 Choosing the right color
When choosing wedding gloves, it is necessary to take into account their color - this is the main rule. The wedding dress and this accessory must be in the same color scheme. If you managed to pick up gloves, then the effect of the overall look will be amazing. Now bridal salons offer brides bright gloves of any color. Such an image will look very extravagant, so you should be careful with this choice.
Material for making gloves
The fabric for this accessory must be selected taking into account the season when the wedding will take place. Thin and lightweight material, as well as lace, is suitable for a summer celebration. And in the winter season, gloves made of a denser fabric are simply necessary, as they will help a little to save your hands from the cold.
Types of wedding gloves
In order to determine the length of the gloves, it is necessary to take into account some nuances: the shape of the girl's hand and the cut of the wedding dress.
For plump hands, you should purchase shaping gloves. If you have a long manicure on your fingers, then it is best to choose open models - mitts that do not have fingers. This look is ideal for brides who have elongated hands, and the model visually makes them shorter.
If the dress has a short sleeve, then the gloves should be elbow-length. Gloves of the maximum length are suitable for a dress with bare shoulders.
The length of the wedding gloves should be taken into account from the time when the celebration will be held. If the ceremony takes place in the afternoon, then choose short accessory models, and for the evening - long ones. If you have chosen models with closed fingers, then do not forget to take them off in advance to avoid the ridiculous situation in the wedding palace. After all, on such a day, everything should be perfect.