When preparing for the wedding, all attention is mainly paid to the appearance of the bride, and a classic suit is enough for the groom. Fortunately, lately, many men are also used to taking care of themselves, and for them this is also a special day in which you need to look your best.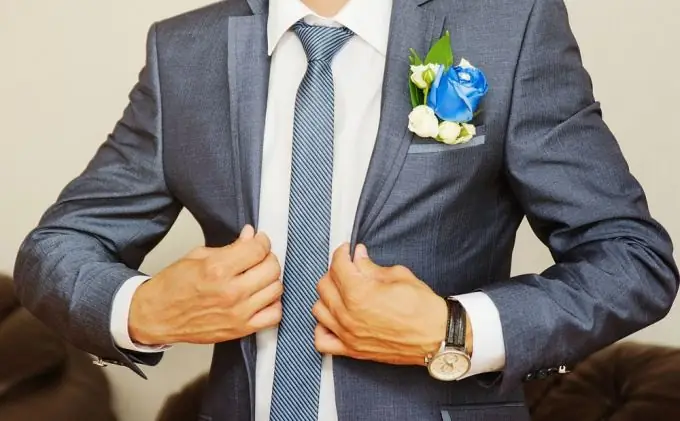 Costume
Choosing clothes for a groom is not easy. There are many factors to consider: the general style of the wedding, the dress of the bride, the location of the wedding, the size, age and appearance of the groom. For example, if the bride is in a lush snow-white dress, and the groom is in Bermuda, they are unlikely to look together. And vice versa: if the bride wears a short dress or prefers country style, the groom in a tailcoat next to her will look ridiculous.
As for the color, black is already too boring, unless it is a wedding in the classic "palace" style. Better to give preference to shades of gray, brown, blue. On men of a thin physique, light colors look gorgeous: ivory, coffee with milk, cream, sand, beige. But in this case, you should pay special attention to the combination with the color of the bride's dress. Be careful with white, it is only appropriate in themed "sea" weddings, and if you are having a wedding in a tropical country or on the Mediterranean coast.
In recent years, grooms are increasingly giving preference to casual style even at their own wedding and completely abandoning jackets. Especially for country weddings, a vest or shirt will be quite appropriate. It should be noted that the higher quality clothing, the more freedom you can afford.
Shoes
Nothing paints a man like stylish expensive shoes. Classic boots are matched to the suit, they should not be lighter than the suit. For a nautical wedding, loafers and even sneakers are suitable.
Accessories
The most masculine accessory is a tie. The classic rule for a tie is that it should be darker than a shirt, but lighter than a suit. Exceptions are possible if you have a carefully thought-out look and the colors resonate with the wedding decor.
The boutonniere should match both the suit and the bride's bouquet. Usually it is ordered with the bouquet.
Cufflinks. There are men who pay special attention to this accessory. Such details will look great in professional photographs.
Socks. Many grooms consider this to be completely unimportant, but incorrectly chosen socks can ruin photos. For a classic look, socks are matched to the suit or slightly darker, but lighter than shoes. Again, an exception can be made for bright socks in the color of the accessories, if the image is carefully thought out. Socks should be long enough, not thick and without textured pattern.
Clock. They can be interestingly presented in a photo session; at the banquet itself, hardly anyone will pay attention to them.
Sunglasses. They will not be superfluous at all if you are planning a photo shoot in an open area on a sunny day. And by themselves, they will make the image complete.
Hairstyle, cosmetics and manicure
It is better to do a haircut not the day before, but about a week before the event. A three-day stubble is perfectly acceptable even for a classic look. And the beard is now at the peak of popularity. If a man wears long hair, then it is better to put it in the salon so that it looks well-groomed. There is no need to be afraid of light makeup, no one will offer to paint your eyes. But foundation and eyebrow shaping will never hurt. Of course, we must not forget about manicure, since your hands will be in the spotlight on this day. Covering your nails with clear varnish is a matter of taste, processing and polishing will be enough.
If the budget allows, then you can use the services of a stylist who will create a complete image: from the selection of a suit to accessories and a haircut.