A spring wedding is gentle and romantic. A few ideas and tips will help make your spring wedding even more beautiful and sensual.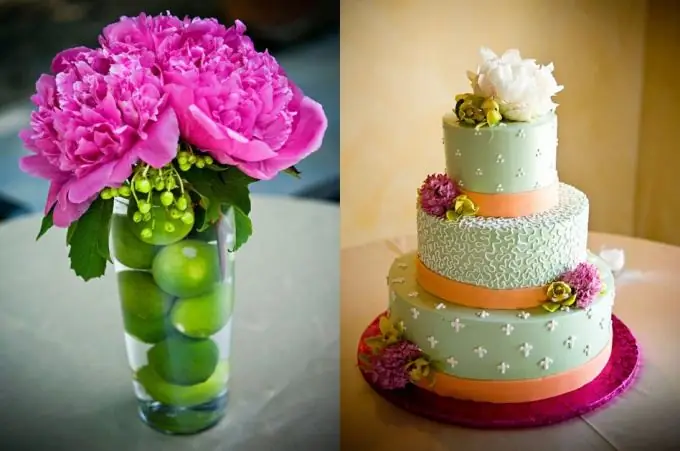 Wedding outfits
When choosing a wedding dress, you should focus on the month of the celebration. If it is March, then you should stick to a long princess silhouette dress or a fluffy long dress. Do not give preference to dresses with a train, as in March the snow melts and dirt accumulates on the roads.
You should also take care of a wedding coat, or purchase a white fur stole. If it is the end of April, then the weather will already delight with luscious greenery and bright sun. Feel free to wear a dress of any length. A short dress can be decorated with a bright beautiful belt of green or yellow color, therefore, shoes should be matched to the color of the belt.
The wedding dress is also decorated with spring colors. So it will look softer and more romantic.
As for the suit for the groom, you should focus on darker shades in combination, for example, with a green shirt and a light tie, or a suit of wet asphalt color with a white shirt and a bright red tie. Please note here that the bride and groom should be in harmony with each other, respectively, their outfits should be in the same color scheme.
Bridal hairstyle
In the spring wedding trend, braids. You can braid one long, voluminous braid and decorate it with fresh flowers. Or braid a spikelet with several strands for release and decorate your hair with a floral wreath. If you are the owner of short hair - do not be discouraged! You can purchase false hair with barrettes and the master hairdresser will put them on for you. Delicate and dreamy spring brides are increasingly choosing loose curls with a large curl. This hairstyle will give the image a charming femininity and lightness.
The bride's bouquet
A bouquet of tulips is the most advantageous option for a spring wedding. The huge range of colors of these beautiful flowers will allow you to create a bouquet for every taste. The most expensive option is a bouquet of lilies of the valley. Also, spring flowers can be combined with, for example, roses and peonies.
Hall decoration
When decorating the hall with balloons in the spring style, all shades of green, yellow, white and purple are suitable. Yellow is a symbol of the spring sun, green is a symbol of fresh grass and blossoming trees, white is the color of May wildflowers, lilac is a fragrant and aromatic lilac.
The wedding table for the newlyweds can be decorated with a fabric of delicate pastel shades. Instead of the usual balloon hearts, use a flower arch. Decorated birds and birch branches may also be present in the decoration of the hall.
Bridesmaids
The bridesmaids can be distinguished by the floral print on the dresses. Or buy mini-bracelets made of fresh spring flowers. It is also fashionable to weave ribbons into hairstyles, while ribbons should match the colors of the wedding.