The wedding gives a lot of the brightest and most positive emotions, not only to the newlyweds, but also to the guests of the celebration. Sometimes I really want to sit down and flip through a wedding album in order to plunge into the atmosphere of universal fun again, and as if to relive that wonderful day. Therefore, it is very important that the wedding photo session is conducted by a professional.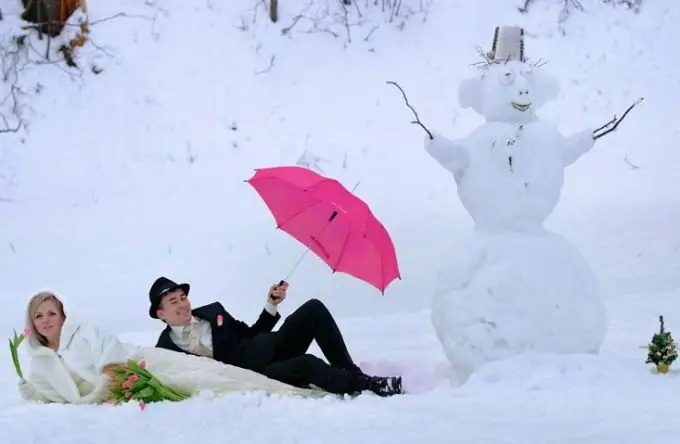 If your wedding is taking place in winter, then you shouldn't worry about taking pictures. They will be bright and original if you follow a few tips.
Quite bright and original pictures will come out through the frosty patterns on the glass.
Future newlyweds can together mold a real symbol of winter - a snowman. It will look very romantic. You can traditionally decorate a snowman with a carrot, tie a scarf, and put a bucket on his head.
If the winter has little snow, then a photo session at the rink can be a great idea. Make sure there are as few people as possible.
If your wedding is themed, then the shooting can be done in the Russian theme - a samovar, large mugs, bagels, felt boots.
A huge heart drawn in the snow can easily become a manifestation of your love. Newlyweds can be photographed in the center of the figure, or ask the photographer to capture the very process of creating the heart.
You can also play snowballs with your significant other. It will look funny and perky, and the pictures will be vivid.
If the future newlyweds are quite brave personalities, then it is worth taking a ride from the high and steep ice slides! Good mood, fun and excellent bright photos are guaranteed to you.
Delicate and cute pictures will be obtained during a snowfall. Such a photo session is suitable for romantic people.
It's great if there is light fluffy white snow on your wedding day. You can toss it into the sky or inflate it with each other's palms.
Photos near the fire will look quite bright and unusual, especially when combined with white snow.
The wedding photo session will be decorated with various accessories in the form of beautiful cones, candles, hearts, stars and much more. You can hang fruit or tree decorations on the trees.
Whatever you come up with for your wedding photo shoot, the pictures should turn out bright, real and very beautiful. Real, sincere emotions are what is really important for such a photo shoot.