One of the most popular international hobbies today is postcrossing, or exchanging paper postcards between people from different countries. To become a member of this fun and interesting movement, it is enough to register on the official postcrossing site, get the first five random addresses and sign postcards in English for the recipients.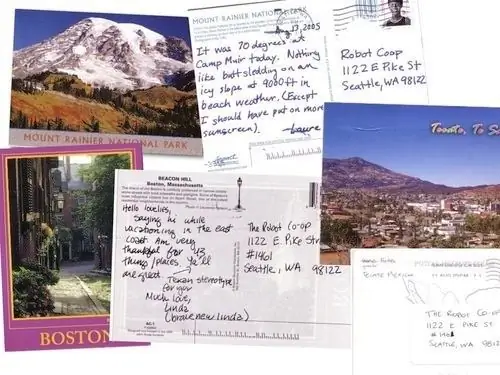 Instructions
Step 1
Determine what you want to write about. The generally accepted rules of postcrossing are that you should introduce yourself, tell in a few lines about your country or the corner where you live. You can mention local peculiarities (for example, abnormally cold weather if you are a resident of the northern region). In the end, do not forget the traditional wish: Happy Postcrossing, which in Russian means: "Happy (funny) postcrossing!"
Step 2
Read the information on the page of the addressee that you received by the random generator on the postcrossing site. As a rule, in the column of information about themselves, prostcrossers write what they would like to see on the back of the postcard. Sometimes there are unusual requests: for example, write whether there is a McDonald's in your city, or drop a few words in your native language. Even if there are no special wishes in your respondent's profile, still write something on the postcard.
Step 3
If you are not strong in English, which by default is considered the main language for postcrossers, first write a text in Russian on a piece of paper. Then translate it using any online translator. And for confidence, so as not to get into a stupid situation, show the result to an English speaking person. Try to make up short phrases, keep in mind that there is not much space on a standard postcrossing postcard.
Step 4
Sign the card legibly, ideally in block letters. Remember that for most postcrossing participants, as well as for you, English is not a native language, so try to avoid mistakes and blots in words. At the bottom of the postcard, write your name (in Latin), if you wish, put the date and do not forget to include the identification number that will be sent to you along with the address of the respondent.