Any student wants to pass state exams well and defend his diploma. Gifts, flowers, a laid table will help put the examining committee in an excellent mood. Perhaps then the "protection" will take place in a more benevolent atmosphere.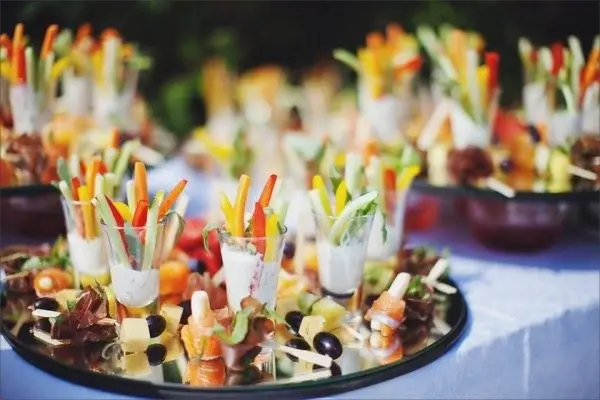 Buffet during the defense of the diploma
Of course, the most powerful argument for an excellent grade will be the student's knowledge. But each tasty dish is a culinary ambassador, helping to build understanding of teachers in relation to students. It will help produce the desired positive effect on examiners.
It is important to decide when exactly to set the table - before or after the exams. Usually, an event that has already happened is celebrated with a feast.
If the atmosphere in the university is democratic, then let's say a certain analogue of a non-alcoholic buffet table in the intervals between the defense of diplomas by different students.
Here are some of the dishes a buffet table can include:
- proteins of boiled eggs with red caviar;
- canapes of several types;
- ham roulettes;
- pies;
- juices, mineral water.
Defending a diploma is a long process, the commission will get tired and hungry. And every teacher should be in a good mood. These dishes will help them to strengthen their strength in order to put only positive marks in the journal for the whole group.
After everyone has passed the exams or before that, you can set the table in more detail. There are 3 options here:
- ordering food in a cafe or restaurant with delivery (but buying ready-made meals is quite expensive, and not all students are ready to donate a considerable amount);
- several activists are selected who cook well; they will conquer examiners with their delicious dishes, they will become more loyal and benevolent;
- buy some snacks, and bring some from home.
What to prepare for the defense of the diploma
Snack dishes are not at all difficult to prepare. Home-made - much cheaper than purchased ones, if you try, they will not yield to the "restaurant" ones in appearance and taste.
Try during the state, diploma defense to surprise teachers with such a delicious snack, which is prepared quickly and involves the use of a minimum of products, you can call it "Komisia". Here's what you need:
- unsweetened cookies like crackers;
- hard cheese;
- bacon.
First, you need to calculate how many examiners there will be during the state. It is better to have more snacks, as students will want to eat too.
Grate the cheese finely, place it on the cookies and wrap each strip of bacon around. Now you need to put the cookies on a baking sheet and put them in an oven preheated to 180 ° C for about 30 minutes. Then a dish called "Komisia", or perhaps "Commission", is taken out, cooled, put into a plastic bag and carried to the university. There it is heated in the microwave and served. Of course, it is better to know how the word "commission" is spelled in order to pass the final exams with dignity and name the dish correctly - "For a respected commission".
It is not difficult to make rolls with ham, so that they too can be submitted for the defense of the diploma. Better to buy slices, stuff: cheese, eggs, herbs mixed with mayonnaise. Then roll into a roll, stabbing with a toothpick.
With the help of it, various canapes are created - snack and sweet. Do not forget to decorate the diploma table beautifully with flowers, balloons, and a wonderful atmosphere is guaranteed.