For a Hawaiian-themed party to become a true luala, a traditional indigenous feast of these islands, the venue, snacks, entertainment and of course guests must be carefully prepared.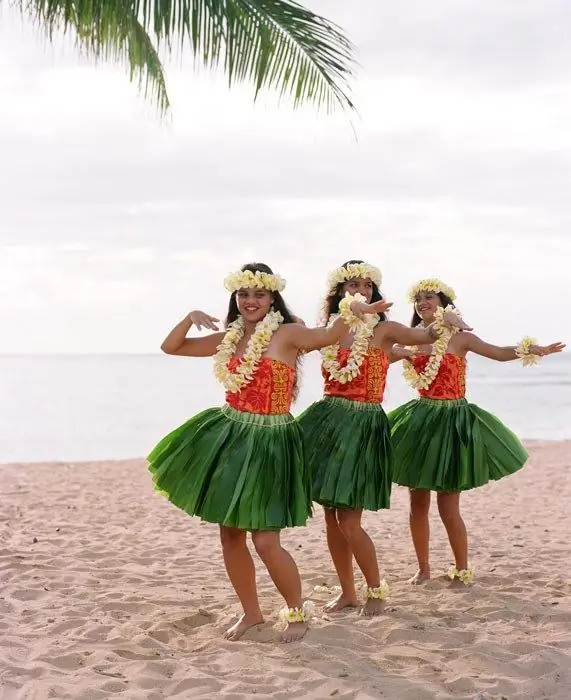 Instructions
Step 1
Inform the party members in advance about the theme of the evening. Ask them to dress appropriately, or make your own colorful shirts for men, simple tops and skirts for women. If the party is outdoors and the weather is favorable, girls can wear swimsuits and pareos tied around their thighs.
Step 2
Decorate your room in a beachy style. Use flowers, palms (or indoor plants that resemble them), garlands for this. Don't forget about the music for the evening as well.
Step 3
Greet guests with a traditional Hawaiian Aloha and wear a flower necklace. You can buy them or make your own. Just cut the flowers out of paper, twist the petals and string them.
Step 4
Prepare special meals for your Hawaiian party. If you don't want to suffer, there is one secret. Add pineapple to the dish to make it Hawaiian. For example, make canapes with French loaf, butter, bacon, cheese. Place a slice of canned pineapple, an olive on this structure and fasten everything with a toothpick, or better with a colored skewer. As a main course, you can bake pork with papaya, and if conditions permit, you can cook a semblance of our chicken fillet with pineapple shashlik. Don't forget exotic fruits.
Step 5
Prepare cocktails such as mojitos, pinacolada, Blue Hawaii. To do this, purchase and refrigerate all the necessary ingredients in advance and freeze ice in sufficient quantities. For those who like spirits, offer rum.
Step 6
Have a dance competition. Tell your guests that in Hawaiian hula, you can tell everything in the world through gestures, eyes, and emotions. Let each of the dancers complete their task, and the audience will determine the winner.
Step 7
Don't forget the Hawaiian game Limbo. Its essence boils down to the fact that the participants must pass under the crossbar (which gradually descends lower and lower) and not touch it with their body.