It happens that you and your friend have not seen each other for several weeks, or even months (if one of you, for example, moved to another city). Or she has some kind of problems in her personal life … And it's simple, even if there is no serious reason, you can always arrange an evening for your friend and have a great time together.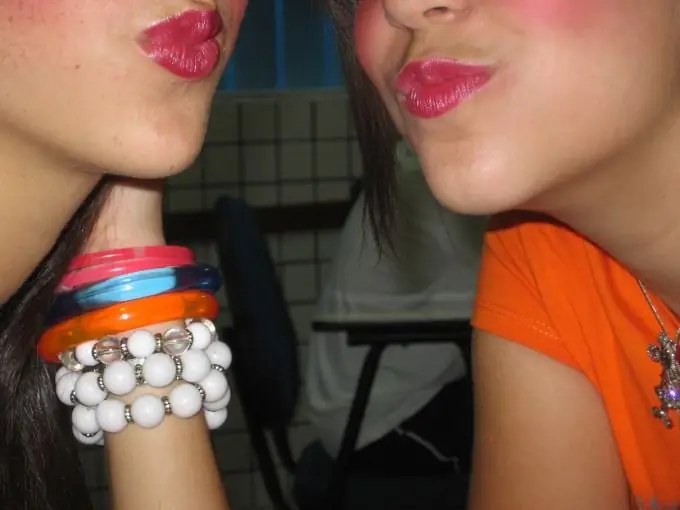 Instructions
Step 1
If your friend is a shopping lover, take a shopping tour. It is not necessary to buy everything in a row - for some, the mood rises simply from trying on all sorts of things.
Step 2
Throw a home party in your pajamas. Make pizza, milkshakes, bake cookies, rolls, or a diet fruit salad. Watch a couple of romantic comedies, chat about everything in the world, get manicures, pedicures, epilation, face and hair masks, experiment with makeup.
Step 3
Have an active evening. For example, go to the pool or go rollerblading or cycling. If the weather permits, you can ride bicycles to the nearest forest and have a small picnic there.
Step 4
Remember your childhood: arrange a trip to an amusement park. Ride all the rides, buy yourself cotton candy, ride a horse, order caricatures of yourself from a street artist.
Step 5
If you and your friend live in different cities, and she came to visit you, arrange a city tour for her. Let it be a thematic walk. If your friend is an artist, designer or photographer, show her the relevant museums and exhibitions. If she's a gourmet and well versed in food, take her through some of the finest dining establishments in your city. If she is an architect or historian, then a more or less classic excursion to sights and monuments of architecture or history will do.
Step 6
Book a photo session - in the studio or outdoors, depending on the weather. Take a lot of different clothes with you, experiment with images. Print your favorite pictures in duplicate and make two photo albums - for yourself and for her.