The tradition of giving cards for the holidays originated a long time ago. Nowadays, people have become less likely to give each other cards, but in vain. After all, it's so nice to get a postcard after a while and re-read all the congratulations that your loved ones wrote to you.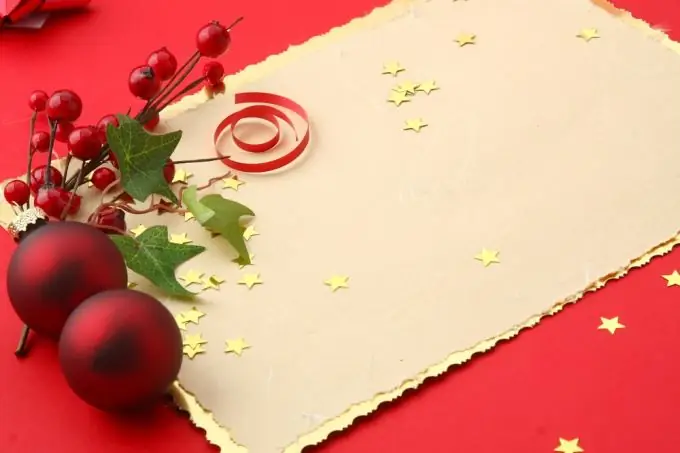 It is necessary
- A4 colored cardboard
- decorative braid (up to 1 cm wide)
- scissors
- glue stick
- pencil
- beads
- ruler
- gel pen (any bright color)
Instructions
Step 1
At the very beginning, in order to make postcards for the New Year with your own hands, you need to draw a diagram of the selected contour for the Christmas tree on colored cardboard, having folded it in half beforehand and getting the A5 format, given that the tree should consist of three or four tiers. The lower tier contains the largest number of tiers (4 - 5 tiers). In all the rest, going up to the top of the tree - one tier in descending order.
Step 2
It is necessary to take into account the width of the braid and the proportions of the tree, placing it from the bottom up. In the lower tier, the base will be eight centimeters, and those located above it need to be cut obliquely, imitating the branches of a Christmas tree. The next tier (upper) will be as much as one and a half centimeters less from the lower (located under it). And so is each tier that is cut obliquely.
Step 3
Cutting and forming branches with your own hands for New Year's cards will not be difficult for you, placing all the fragments of the New Year tree in the desired pattern and securing them to cardboard with glue-pencil. You will get a beautiful New Year's tree, which you will need to decorate on top of each branch with beads or arrange it in the form of garlands, sticking them in the form of overlapping threads. A bright sequin is glued to the top of the tree.
Step 4
Paste the outline of the postcard with beads, placing it like snow (white beads). And sign the decorated postcard with a gel (red or blue) pen with the inscription "Happy New Year!" The letters themselves can be made wide, if you also sprinkle them with white or transparent beads.
The postcard is almost ready. It is only necessary inside it, using a thin pencil, to apply barely noticeable lines for a congratulatory inscription.