Airborne Forces Day is a holiday celebrated by millions of Russians who have served in the airborne troops. August 2, 1930 is the day of the formation of the Russian airborne troops. This date is significant not only for the paratroopers and therefore is celebrated with special solemnity.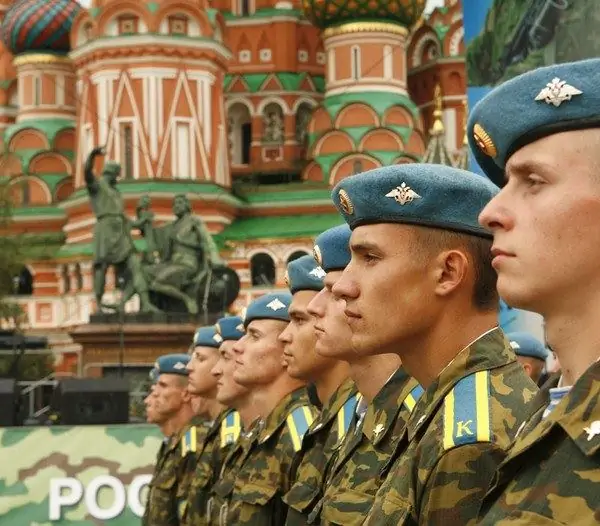 Traditional events to celebrate the Airborne Forces Day are held in all cities of Russia. But since the capital of the airborne troops is Ryazan, this is where the main celebrations take place. Demonstration landing, sports competitions between battalions, performances of athletes and gymnasts are held at the local CSK stadium.
In Moscow, St. Petersburg and other cities of Russia in honor of the holiday, concerts, fairs, festivities, demonstration performances of the airborne troops are held. Traditional meeting places for colleagues in Moscow are Poklonnaya Gora, VVTs, TsKPiO im. Gorky. Moreover, a common entertainment of paratroopers on a holiday is swimming in the city's fountains.
Day of the Airborne Forces coincides with the day of remembrance of the Holy Prophet Elijah, who is considered the patron saint of the air forces of Russia. In the Moscow church of this saint, a prayer service and a liturgy are held.
To honor the memory of the fallen paratroopers, veterans and heads of administration in different cities of Russia come to cemeteries and monuments. Flowers are being laid at the Novodevichy Cemetery in Moscow at the grave of General Vasily Margelov, thanks to whom the airborne troops acquired their current appearance. This legendary commander instilled in the Russian paratroopers a strong, invincible spirit that still binds them with a brotherly thread. For this reason, the paratroopers call themselves "Uncle Vasya's troops."
Day of the Airborne Forces is truly a significant event for Russia. On the squares of all cities, the anthem of the airborne troops is proudly played, with enthusiasm being performed by the "blue berets". The paratroopers, with trepidation in their hearts, pronounce the words "Nobody but us", which is the motto of the Airborne Forces. Again and again they remember the service to the Motherland, which unites millions of people despite long distances.