Study, work, and in the evening a TV or a computer … gray everyday life practically does not leave behind memories. To make life bright and fun, you just need to sometimes throw parties! If your experience in this business is not too great, use our tips for organizing a cool party.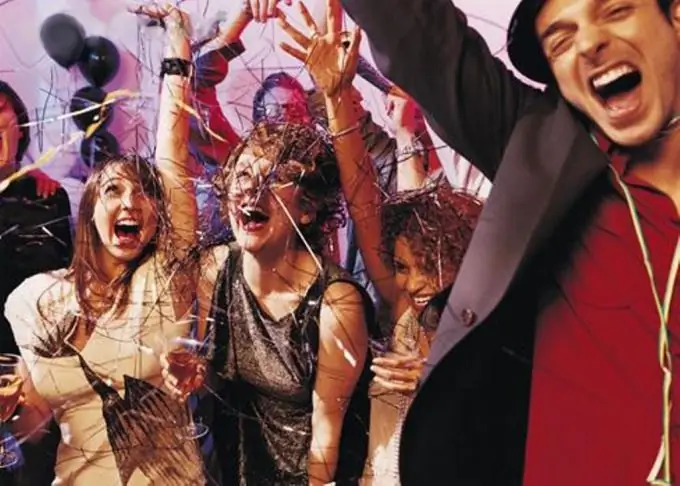 Instructions
Step 1
First of all, identify a reason for the fun. Check your calendar for official holidays and upcoming birthdays. If none are foreseen, the recent sports achievements of our athletes, foreign holidays such as Halloween or Oktoberfest, the anniversary of any historical event or invention, the birthday of your idol will do. You can have a "pizza day", "beer day", etc. The more original excuse you come up with, the more exciting the party promises to be.
Step 2
Think about who you want to see at the party and count the number of invitees.
Step 3
Find a suitable place where you can organize your party. In summer, you can also have fun outdoors by making the appropriate decorations: pull up tents, throw up rented tents. A cottage or a cottage is perfect for a party. In the cold season, the premises can be rented. House parties are not the best option if you live in an apartment building: there is a limited space for a maximum of 10 people, and outraged neighbors. However, if you are having a quiet, intellectual party or a mystical, tarot reading, consider this option.
Step 4
Set a date and time for the party that suits most of the invitees.
Step 5
Determine your party budget. Calculate how much money will have to be spent on room equipment, food and drinks, inventory and gifts for contests. Feel free to invite everyone you invite to chip in for the party, after all, they will be the ones to have the fun.
Step 6
Choose food and drinks. When it comes to food, you need to find a middle ground. On the one hand, it is not the amount of food that determines the fun of the guests, so you should not arrange a long feast. On the other hand, guests should not get hungry, otherwise they will also have no time for the holiday. The ideal option is to provide a freely available snack so that everyone can easily grab a bite when they feel like it. Accordingly, such an appetizer should be in the form of fruits, sandwiches and canapes, pieces of cheese, meat, sausages.
As for drinks, you should ask the guests what drinks they expect to see at the party. In the end, maybe someone will have individual wishes.
Step 7
Think about music. A universal option is to create a trendy dance mix. When a party is dedicated, for example, to Britney Spears 'birth of another child, you should focus primarily on Britney Spears' songs. If you have special musical preferences in your environment, follow them.
Step 8
Come up with entertainment and contests, because just eating and dancing is boring. Try to fit entertainment and contests into the theme of your party. For example, on "pizza day", have a speed-eating contest. Celebrate the anniversary of the founding of the Bolshoi Theater with a masquerade. Celebrate the release of a new action movie with your favorite actor in the title role with competitions on accuracy with the help of a target and darts. Search the internet for universal game ideas. For example, "forfeits" will be held with a bang at almost any party. Stock up on all the necessary equipment for games and contests.
Step 9
Appoint a party host. If there are many guests, equip it with a loudspeaker or microphone.
That, in fact, is the whole ideological background of a cool party. Now it remains to bring the idea to life and have fun from the heart!