A handmade postcard can be an original addition to a gift for any occasion. Such a postcard can also be presented as an independent gift - after all, it is made for a specific holiday. A beautiful and original congratulation in verse or prose can be interestingly decorated on a postcard timed to coincide with the 8 March holiday.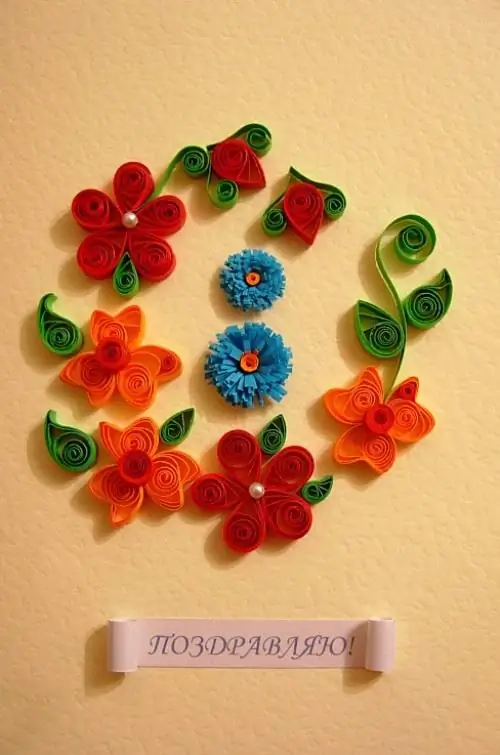 It is necessary
White and colored paper, white and colored cardboard, some fleece, buttons, stationery knife, scissors, glue, double-sided tape, pencil, ruler, pen
Instructions
Step 1
Take a piece of paper and cut it in half. Set aside one half, and fold the other in half. Draw a quarter of the chamomile on one side. Cut the top of the leaf along the outline of the chamomile on one page.
Step 2
Cut out a rectangle for the back of the card and glue to the base. Cut out a quarter of the chamomile out of colored paper, like on the basis of a postcard. Also glue with glue.
Step 3
Make 3 blanks of a quarter flower from yellow and white paper. They should be different in size. Make petal cuts on them. Twist the resulting petals slightly with scissors or a knife.
Glue the blanks on the base of the postcard, starting with a large one, end with a small one. Cut a circle out of the yellow fleece and glue it in the middle of the flower. You can glue it with double-sided tape. On the resulting chamomile, cut the petals and twist them.
Step 4
Make a sign for congratulations. To do this, cut a rectangle out of paper. Cut the edges with curly scissors. Glue the plate to the postcard and write your wishes.
Step 5
To decorate the inside of the postcard, glue a piece of green paper, a few daisies. Buttons can be glued to the middle of the daisies. Decorate the composition with a decorative paper strip. The exclusive postcard is ready!