On the eve of the new year, it's time to think about decorating your home. The main attribute of the New Year holidays is a Christmas tree (pine). Both children and adults love to decorate it. You can hang toys on it in a chaotic manner, or it is better to show a little imagination so that your Christmas tree becomes a real work of art.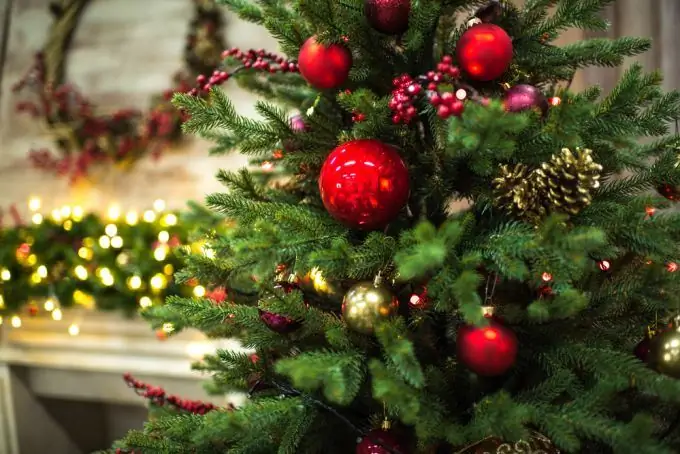 Unified color palette
The Christmas tree, decorated in a single style, looks very nice. Harmonious and classic color combination:
- red + gold;
- blue + silver;
- white + pink;
- emerald green + gold or black
- mint (Tiffany color) + white.
From the latest fashion trends - a combination of purple with white and silver. All shades of lilac and purple are also relevant.
It is not necessary to buy the same Christmas tree decorations, the main thing is to correctly combine the shades.
In addition, a uniform style can set the shape of the jewelry. For example, you can decorate the tree with balls and candles, wooden toys, or beads and bows.
Large toys look beautiful on a large tree. Even if there are few of them, this design looks more advantageous than a scattering of assorted small figures.
Thematic design
Themed trees look very original and interesting. The design idea can be any: funny animals, "bird yard", fairy-tale characters or a symbol of the year.
"Retro Christmas trees" look very stylish and elegant. It is good if you have preserved old Christmas tree decorations, and if they do not exist, it does not matter. Now there are a lot of antique stylized Christmas tree decorations on sale. True connoisseurs of retro can "hunt" at New Year's sales, flea markets, or look for "Christmas tree antiques" on the Internet.
Handmade
For the owners of "crazy pens", New Year's holidays are a great occasion to show their creativity. DIY toys sometimes look much more interesting than purchased products.
You can arrange a family evening and together come up with and make a New Year's decor for your home. This will not only diversify your leisure time, but also bring the family together. It is not necessary to limit yourself to making Christmas tree decorations, make an additional Christmas wreath on the door or New Year's ikebana.
Edible tree
"Edible tree" or "Christmas tree from childhood" is a great option for New Year's decoration. For decoration, you can use sweets, kinder surprises, tangerines, nuts, painted gingerbread.
Place traditional sweet gifts and a basket of tangerines under the tree.
The nuts can be wrapped in foil or painted with silver or gold paint. Be sure to buy New Year's candies - caramel canes, they will perfectly complement the "Christmas tree outfit".
Textile history
Textile lovers can decorate the Christmas tree to their liking. For decor, bows, ribbons, fabric crafts and small soft toys are suitable. Bears, gnomes, fairies and angels look very cute on the tree. Tie a large bow at the top.
At the bottom, the tree can be draped with sacking and a large soft toy can be planted next to it.