Graceful Christmas balls, painted bells, a multi-colored electric garland, a red star at the top - this is so beautiful, familiar, but too traditional. Plunge into the world of creativity and make your Christmas tree unique and unrepeatable.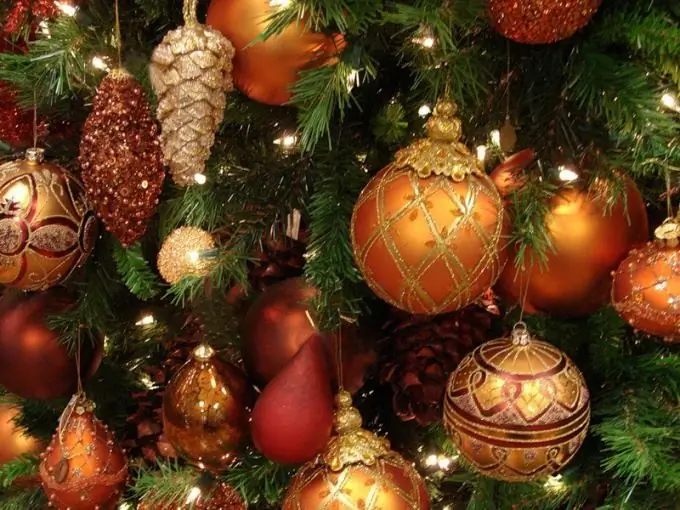 Instructions
Step 1
Make paper toys. To make simple snowflakes, garlands and figurines, you don't need special talents - you just need to be able to handle scissors and connect your imagination. Snowflakes: Determine the size of the finished figures, fold a piece of paper or napkin in half and use sharp scissors to cut various geometric shapes in the center and sides. Make paper lanterns from thick multi-colored cardboard - connect two or three circles together, cutting holes in the middle. Make a garland from colored paper or candy wrappers - string the colored pieces of paper remaining from the sweet feast on a thread and fix it on the spruce branches.
Step 2
Hang edible decorations on the tree. Large candies in colorful packaging, round apples and tangerines, walnuts in rustling foil, chocolate figurines of fabulous New Year's characters - anything that can be fixed on a thread and hung on a Christmas tree will do.
Step 3
Re-arrange the medicine vials into Christmas tree decorations. In any home, there are several bottles of used medicines - the smaller the bottle, the better. They can be painted, wrapped with bright woolen threads, covered with polystyrene peas, cereals, rhinestones or strips of colored paper - for which there is enough imagination. Wrap the neck tightly with thread, secure it and let your bubbles find their place on the Christmas tree.
Step 4
Use shells or ping pong balls. Round objects will make great snowmen, penguins, clowns, fish and other elements that can be hung on the Christmas tree as a toy. You need to make holes in the balls, thread them through - paint them with markers, add details from pieces of paper and fabric. The contents should be carefully blown out of the egg and decorated in the same way. To prevent the fragile material from cracking, attach the empty egg with a piece of plasticine to the surface.
Step 5
Make snow. Decorate individual parts of the spruce branches with artificial snow - grease several needles with glue and sprinkle with grains of foam plastic. Make sure that the "snow" lies naturally and evenly (in the center of the spruce foot), and there is not too much of it.