The thirtieth anniversary of family life is called a pearl wedding. It is believed that over the years, the relationship between husband and wife has become as strong and beautiful as natural pearls emerging from a tiny grain of sand that builds up layer by layer over time and becomes very strong as a result. In the same way, the family "overgrows" in layers in the thirty years that have passed since the day of the wedding, and becomes indestructible before all the storms of life.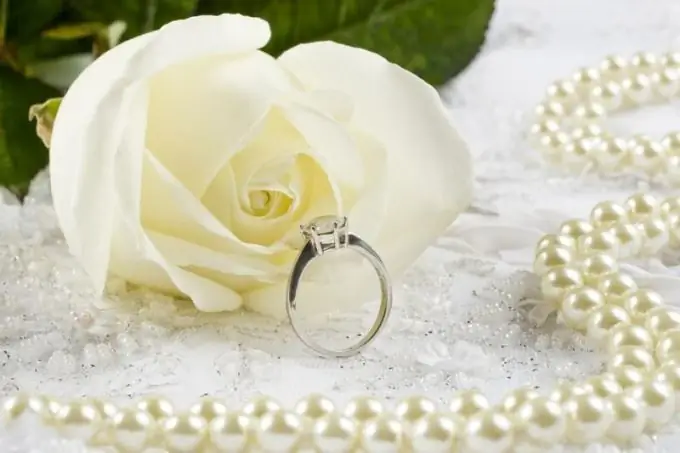 According to an established tradition, on this day, the spouses give each other gifts related to the theme of the celebration. The husband presents his other half with a necklace consisting of thirty pearls, each of which marks one year of marriage. Guests of the holiday also try to present gifts with pearls, most often various jewelry (bracelets, beads, rings, earrings and tie pins), as well as interior items with pearl inlay (boxes, candlesticks, figurines). Although it is quite permissible to abstract from the theme of the celebration and give just necessary and useful things, especially those that will delight the spouses for many years to come. This can be home appliances, various interior items (including antiques), as well as art photographs or portraits of the spouses and their entire family.
There are many interesting traditions associated with the celebration of a pearl wedding. One of them is that on this significant day, the spouses take one white pearl and throw them into the sea (river, pond, lake, that is, any body of water). At the same time, they wish for themselves that their marriage lasts as long as these pearls lie at the bottom, and that it never yields to them in strength and strength.
There is one more interesting tradition - to drink "pearl" champagne. To do this, the husband and wife dip a pearl into glasses filled with champagne and drink to the bottom (you do not need to swallow the pearl!). Tradition says that the glasses should be broken further, but this is not at all necessary. But what must be done without fail is to kiss each other as once at a wedding, so that the guests have time not only to shout "Bitter!", But also to count to 30 (or more)! After the celebration, pearls can be thrown into a pond, or they can be saved as a symbol of your love by putting them in memorable jewelry.
The thirtieth wedding anniversary is most often celebrated with family and friends. Many spouses by this time acquire not only children, but also grandchildren, therefore, the celebration is often transferred to a cafe or restaurant, since it is simply not possible to accommodate all those invited at home. And if the soul asks for a quiet family holiday, then it is quite permissible to celebrate this date with children and grandchildren, or even alone with each other.