Previously, garters were worn to support stockings. Today it is a graceful accessory for the bride's wedding dress. There is such a sign: the bachelor who caught the garter thrown by the groom will soon marry.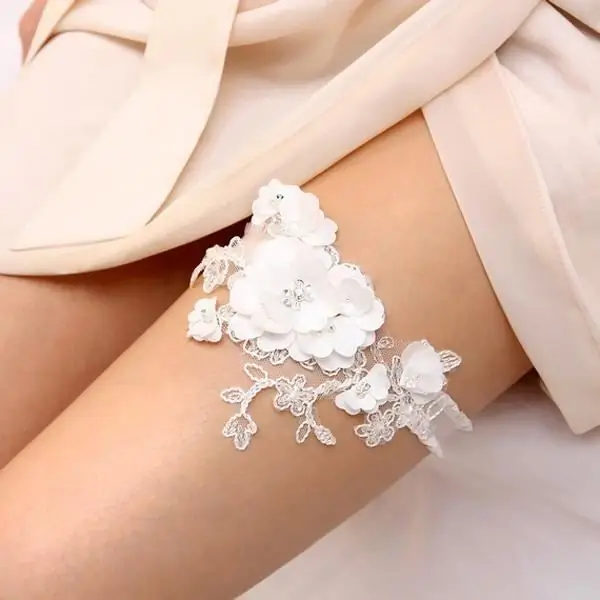 Garters were the first to be invented by the French. The word "garter" itself comes from the French "jarret", which means "popliteal hollow". Garters were originally like a pair of rubber bands. They used to be worn to support stockings. They were used not only by women. Men emphasized the slimness of their legs with beautiful garters.
Garters for a gentleman
A men's garter made of silk ribbon was applied from the front below the knee. The long ends were crossed at the back and tied with a large bow.
The most famous are the garters of the English knights, knights of the Order of the Garter. In 1348, at a ball in Calais, the Countess of Salisbury danced with King Edward III and lost her velvet garter. The king in love lifted her up and tied her to his left leg. So he saved the lady from shame.
Garter hunt
Women's garters were surrounded by an aura of seduction. The young men rocked the object of their passion on a swing, started noisy games with the girl. If only to see the cherished garter. Young ladies, of course, guessed about this and often corrected an elegant accessory. The expression "throws the garter" meant that the girl wanted to get married.
Ladies preferred garters on which statements were woven. For example, "I gave my heart for a long time." So women defended themselves from zealous garter hunters.
In 1791, the wedding of Princess Frederica of Prussia and the Duke of York took place. In memory of the ceremony, bright red spring garters "The Duchess's Blush" were made. They were expensive. But they retained their elasticity for a long time.
Traditions
There are many traditions associated with garters. For example, rheumatism was treated with garters made of spring eel skin. The bride's garters were considered a symbol of fertility, large offspring. Friends of the groom pulled them off the bride and tied them to their hats.
Wedding garters were made in the form of small strips of silk ribbons of different colors. The popular color was blue - the color of constancy. Green was considered unlucky.
Another romantic tradition associated with garters survived into the nineteenth century. After the wedding ceremony, the young men rushed in a race to the bride's house. The winner received the right to the left garter. He later gave it to his chosen one, as an amulet against infidelity.
Nowadays, the bride wears two garters on her right leg above the knee. One, "happy", is tossed by the groom to his friends. It is believed that the bachelor who caught her will soon marry. And "honey" is kept in memory of the first wedding night.