In stores you can find an artificial Christmas tree for every taste and color, but still not everyone likes them. Some people prefer to buy a natural Christmas tree, because only she is able to give the feeling of a holiday and fill the house with a unique smell of pine needles. In order for the green beauty to please the eye and not crumble before the due date, it is necessary to take into account several nuances when buying it. So how do you choose a natural Christmas tree?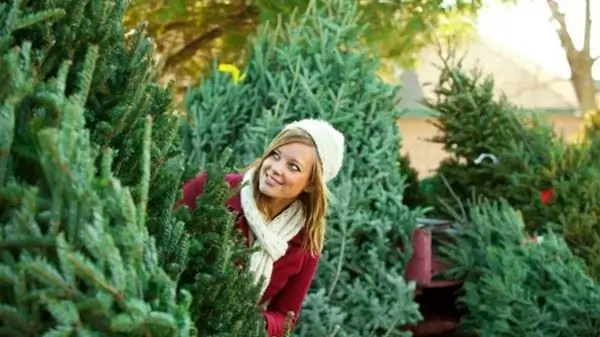 Before we start talking about how to choose a natural Christmas tree, I would like to answer the question that interests many: what time is it best to acquire this attribute of the New Year? Of course, this must be done in advance. If you postpone the purchase until December 30 or 31, you will have to choose from what is left, and, as a rule, only what is worse remains.
How to choose a natural Christmas tree
Pay attention to the size of the tree first. After installing the tree, there should be a lot of free space in the room. If you clearly see that the green beauty is too large for your home, then give preference to smaller trees.
Also, when choosing a Christmas tree, you should start from where it will stand. For corners such a tree is suitable, which has an asymmetric "fluff" - it will be conveniently located in the place intended for it.
When buying a green beauty, pay attention to its trunk. If there are trees in front of you that look exactly the same, then give preference to the one with the thickest trunk. He says that this is a healthy plant that has enough nutrients in stock. It depends on them how long the tree will stand at home. A tree with a height of 1.5 meters has a trunk in diameter of at least 5-6 centimeters.
Which natural tree to choose
At the Christmas tree bazaar you can find not only a domestic Christmas tree, but also a lot of other varieties of this tree. For example, it is far from uncommon to see Canadian fir trees. They are good because, being in a warm room, they shed needles less. There are also blue spruces. Their advantages lie primarily in the fact that they have a sturdy construction, and the needles are covered with a layer of wax. This means that in the warmth such a tree will be able to stand longer.
Pines are also in great demand. Such a tree will not begin to shed its needles even after a month and a half. The same applies to fir. Plus, fir can even take root over the New Years.
Having learned the above-described nuances of choosing a natural Christmas tree, I think you will easily acquire the most lush, beautiful and healthy tree that will delight you during the holiday holidays!