When preparing for the wedding, it is important to think over not only the image of the bride, but also the image of the groom. First, a man must look beautiful and stylish. And, secondly, he must harmoniously complement the future spouse.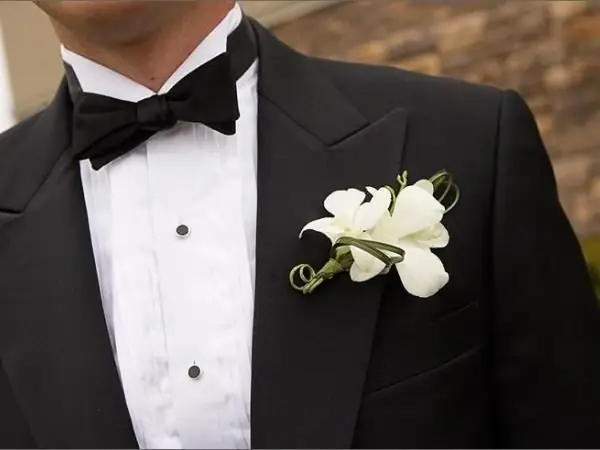 Instructions
Step 1
Traditionally, a classic suit is used as a wedding dress for the groom. Its advantage is that a wide range of sizes allows you to choose a suit that suits any type of figure. As a last resort, you can ask an experienced craftsman in the atelier to adjust the jacket and trousers to suit you. The worn suit should form vertical lines, no creases, folds or distortions. The shoulders of the jacket should be in place and the sleeves should end at the wrist bone. When choosing trousers, pay attention that they are not too tight and, conversely, loose.
Step 2
The costume should emphasize the refined taste of the groom, while not overshadowing the bride's dress. Black and dark gray suits are more popular among newlyweds. For special occasions, dark blue is also suitable. Light-colored suits are more suitable for outdoor weddings.
Step 3
At the evening banquet, a tuxedo is quite appropriate. It differs from the jacket in silk lapels. Most often, tuxedos are made of black fabric, but you can also find gray, blue models. Tailcoat is a particularly solemn thing. You need to choose it if the wedding takes place in the most luxurious restaurant and resembles a secular ball. Most importantly, do not forget to warn the invited guests about the dress code. Recently, outdoor rustic weddings have become popular. They are characterized by simplicity, slight negligence and naturalness of materials. For such a celebration, the groom is dressed in linen trousers and a black, brown or sand vest.
Step 4
When choosing a shirt, make sure that the cuffs and collar protrude from under the jacket by 1.5 cm. The sleeves can be fastened with buttons or cufflinks, it all depends on your preferences. Light shades will emphasize the solemnity of the moment and will look harmoniously with a white dress. If the wedding is planned in a certain color (red, lilac, blue, lemon, etc.), and the bride's attire has the appropriate shades, the groom's colored shirt will become a stylish addition.
Step 5
It is best to wear classic shoes on the groom's feet. For a dark suit, choose black models, for a light outfit - beige or brown. The socks are matched to the tone of the shoe. An accessory plays a special role in the wedding look of the newlyweds. The groom's tie or bow tie should overlap with the flowers in the bride's bouquet. When choosing cufflinks, opt for the classic silver color. For a rustic wedding, the groom can also wear a fabric cap over his head.