On the eve of the upcoming winter holidays, almost everyone thinks about where to spend New Year's Eve. You can celebrate the New Year in Kazan so that the holiday is especially memorable. It is enough to choose a place and a company.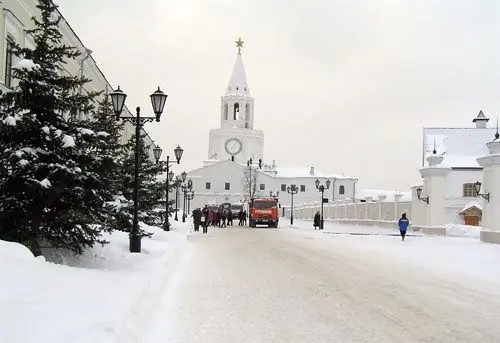 Instructions
Step 1
Rent a country cottage on the territory of the Glubokoe Lake recreation center. You can book seats and get additional information around the clock by calling 55-78-747 or 55-78-777. The restaurant at the recreation center will offer you a festive menu and an enchanting show with the participation of leading Kazan artists. Exciting adventures for several New Year's days will delight your children, which include walks in the fresh air, winter fun, swimming in the pool.
Step 2
If you like noisy companies, then celebrate the New Year in one of the many restaurants or cafes in Kazan. You can choose a restaurant that on New Year's Eve for a fixed fee will offer not only delicious dishes from chefs, cocktails or alcohol, but also exciting show programs, discos, carnival parties, musicals and performances by famous Tatar artists. You can find the catalog and rating of all restaurants and cafes in Kazan on the website
Step 3
Celebrate the New Year in the sauna with a fun group of friends. On a holiday, almost all such establishments provide services for the whole day. In addition to the steam room, you will be offered entertainment: karaoke, billiards, a bar, a swimming pool. The only drawback of such a New Year's pastime is that you will have to take care of the New Year's table yourself. Although, for example, in the sauna "Glamor" (Pobedy street, 19) they offer to prepare holiday treats for an additional fee.
Step 4
Go celebrate away from the hustle and bustle of the city. You can enjoy the fresh air at the Kazan ski resort. Information about the restaurants of the sports complex and hotel reservations on holidays can be found on the pages of the site http://ski-kazan.ru. You will celebrate the New Year in one of the restaurants of the resort, located on the side of the mountain, where you will go after an exciting descent.