It happens that on the eve of the wedding, future spouses become superstitious. First of all, this relates to the choice of the registration date. There are many criteria, based on which, you can choose the date of the upcoming celebration.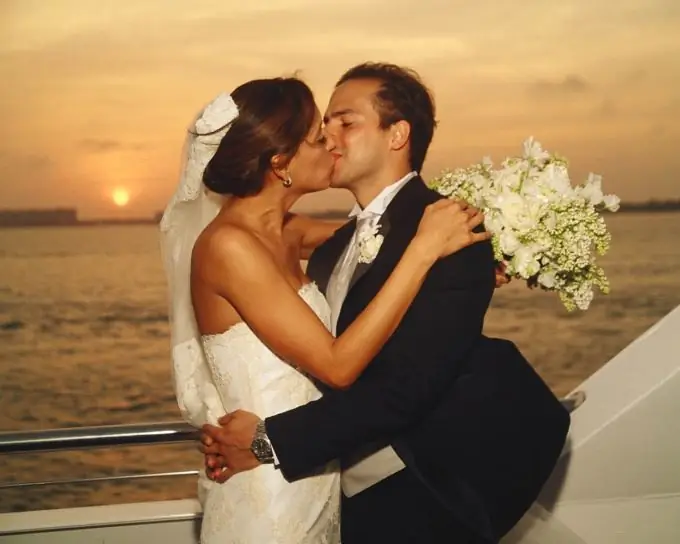 Instructions
Step 1
Choose your wedding date based on significant events for your couple. This can be the day you met or the date of the first kiss, first date. If this day is significant for you and it was on that day that you were truly happy, then you can hope that the marriage concluded on this day will be long and happy.
Step 2
Review the folklore calendar before scheduling a date for your marriage registration ceremony. Popular beliefs say that you should not get married in May - the couple will suffer all their life. Getting married in January, according to the same sources, is considered a bad omen - it can lead to early widowhood. But February is quite favorable for marriage - the young will live in trust and harmony. If the bride got married in March, then, most likely, she will live in a foreign land for her. April is a changeable month, and the happiness of the young will be the same as this month. The couple, who got married in June, will have their honeymoon all their lives. July will bring both happiness and grief to spouses in equal shares. August is a great choice, the couple will be lifelong friends. A wedding in September heralds a quiet and peaceful family life. But in October it is better not to marry - the life of the spouses will be full of hardships and hardships. November marriage promises a rich family life. And December heralds the strengthening of love with each year lived together.
Step 3
Try to determine the wedding day from astrological forecasts. At the same time, you need to take into account what day of the week your birthday falls on this year. For example, a wedding on Monday, provided that the birthday falls on the same day, promises happiness for a married couple. Tuesday will bring scandals and quarrels to the family, it is better to choose another day. A wedding on Wednesday means that the spouse will be changeable: today he loves you, and tomorrow he can cool off dramatically. If you strive for leadership in marriage, then the wedding is best scheduled for Thursday. A Friday wedding will bring good luck in all respects - both in business and in an intimate married life. Saturday is suitable for a wedding for those who dream of a quiet and peaceful family nest. The couple married on Sunday will support each other throughout their lives.
Step 4
Check the lunar calendar when choosing a day for your wedding. Indeed, for each lunar day its own energy is determined: positive or negative. A marriage will be ideal if it is concluded on the sixth, tenth, eleventh, fifteenth, seventeenth, twenty-first, twenty-sixth or twenty-seventh lunar day.