New Year is a favorite and long-awaited holiday. Adults strive to create a "fairy tale" for children on this day. A festive atmosphere should reign not only at home, but also in the classroom, because children spend a lot of time at school.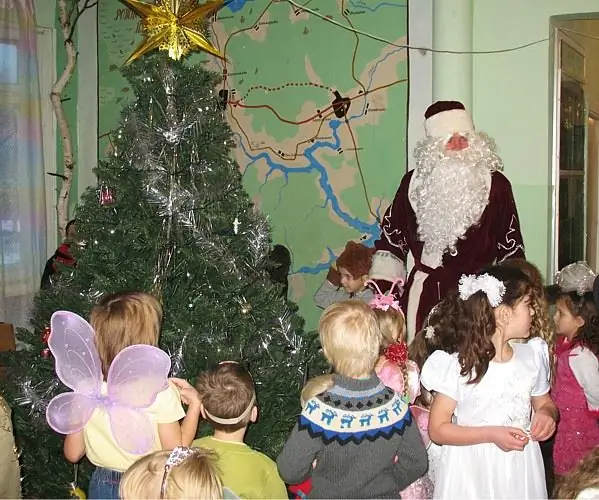 Instructions
Step 1
Talk to the children and find out what they cannot imagine this holiday without. Make a list of things to do and what to buy in the store in advance. These can be materials for making garlands, lanterns, souvenirs, and gifts and other decorations for the Christmas tree are best done with your own hands.
If for a week or two the guys are busy making jewelry or preparing surprises for classmates, the joy of waiting for the holiday is felt stronger.
Step 2
In the New Year, it is imperative to put a Christmas tree in the classroom. If you are against cutting down live trees, buy an artificial one. She can be dressed up next year too.
The feeling of celebration arising from the scent of spruce can be created using branches that need to be woven into a Christmas wreath or placed in a beautiful vase. Attach the smaller ones to the larger branch.
Step 3
If you do decide to install a large and lively Christmas tree in the classroom, consider how you will decorate it. Children love sweets. Hang sweets, tangerines, oranges on the tree, but do not forget to decorate them beautifully by wrapping them in bright paper and hanging them on a golden thread.
Everything should be imbued with the atmosphere of the holiday. You can hang garlands and balls made by the hands of children. Ask the children to cut the snowflakes out of paper.
To do this, you need to fold the sheet several times and make cutouts in the middle. Cut the edges in a zigzag pattern. Expand the sheet. You should get a snowflake.
Step 4
Make snowmen out of paper and cotton wool with the children and put them at the entrance to the class. Decorate them with rain. They will meet the guys in the morning.
Step 5
You can paint the windows beautifully, depicting Santa Claus and Snow Maiden, snowflakes and a Christmas tree on them.
Step 6
Prepare a wall newspaper in which the children can write holiday greetings for each other. If there are children in the class who write poetry, ask them to write for the wall newspaper.
Step 7
Ask the children to prepare surprise gifts for each other. Put them in pretty boxes and hide them under the tree. Do not forget to sign who the surprise is for. When the children come to school, the holiday gifts will make them very happy.