The upcoming New Year holidays prepare many pleasant moments for those who plan their celebrations in advance. Celebrating the New Year does not have to be at home in a casual setting. Restaurants, clubs and other places of celebration are happy to receive guests on a festive night.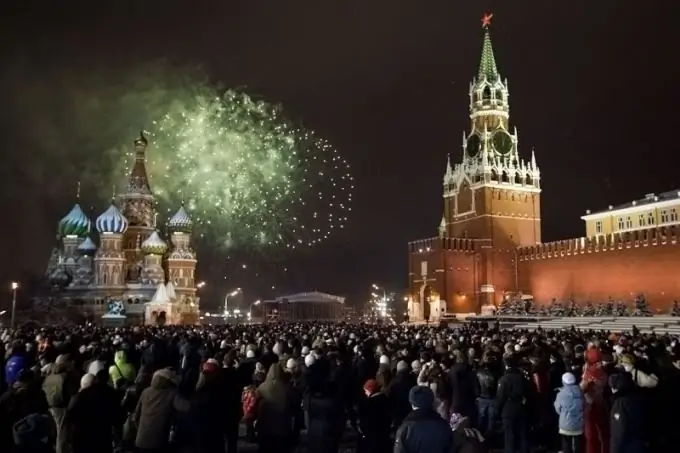 Instructions
Step 1
Celebrate New Years at a restaurant.
Many catering establishments are waiting for visitors on New Year's Eve. Depending on your gastronomic preferences and financial capabilities, you can find yourself a cozy place at the table on the eve of the long-awaited holiday. In Moscow, you can go to the "B-12". The cost of the celebration will cost you 5,000 rubles. Other restaurants in the capital include Kamin and Boyarsky. You can eat there and celebrate the New Year for about the same amount. Other interesting places in the capital where you can celebrate a holiday are Bellis Bar, Blackberry Cafe, La Prima, Maxim Bar, MUZEY. In St. Petersburg, guests are welcome at the Crown Plaza St. Petersburg Airport, Paberti restaurants and Open Bar.
Step 2
Meet the holiday at the recreation center.
If the feast in city restaurants does not appeal to you, go out of town, where you can spend time with loved ones in the bosom of nature. A celebration at the recreation center will cost you an average of 10,000 rubles, depending on the region. In Yekaterinburg, guests will find the recreation centers "Bely Parus", "Vesna", "Vostok", "Lesnaya Skazka", "Red Stone". In the Leningrad region you can relax and celebrate the holiday at the bases "Aurora", "Voroniy Khutor", "Mikhailovskaya", "Lukomorye". In the suburbs, pay attention to the rest houses "Snegiri", "Usadba", "Zavidovo".
Step 3
Celebrate in a different way.
Is fun in a restaurant or recreation center not for you? Celebrate the New Year, for example, at the water park or by playing laser tag. You can celebrate the holiday by riding a motor ship along the Neva or the Moscow River. You might want to rent a limousine and take a fun ride through the most interesting places in your city. Any large skating rink will be glad to welcome you on New Year's Eve. If you just want to be in the center of the fun, go to the central square of your city and drink a glass of a festive drink to the chimes.